Welcome to Nexus Mods
We host 329,166 files for 1,432 games from 134,054 authors serving 28,803,458 members with over 3.5bn downloads to date. We support modding for all PC games. If you can mod it, we'll host it.
SHARE YOUR MOD AND WIN AN RTX 3070 Ti WITH ROG
Join our community and upload a mod before 10 October 2021 for your chance to win awesome prizes - including an RTX 3070 Ti!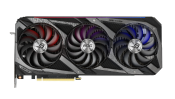 +